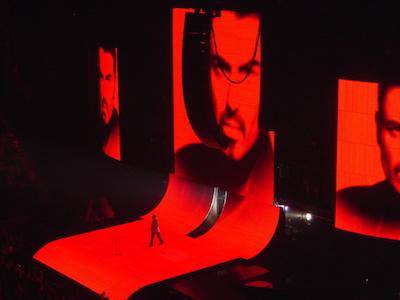 El Viernes 21 de Julio del 2008, la gira 25 Live de George Michael se presento en Montreal. Crecí escuchando en la radio a este cantante así que no estuvo demás poderlo ver en vivo.
El espectáculo fue totalmente ingles y sobrio. La banda se encontraba atrás del escenario y colocada en pisos, de manera que ocupe lo menor posible y dejarle la casi totalidad del escenario a Michael solamente.
Pantallas
El diseño de las pantallas fue bastante interesante y el escenario como tal no poseía mas artículos de decoración, dos pantallas gigantes se encargaban de proyectar videos sincronizados con la canción que se cantaba en ese momento. Muchos de estos videos fueron los mismos videos de las canciones en si, con una que otra edición para el concierto. Por ej. durante la cancion Too Funky, se proyecto el video original en el cual -entre otras- aparece Tyra Banks en sus mejores años …. Mundial! 🙂
El hecho de que George se encontrara solo (la mayoría de las veces) en el escenario demostró el dominio que tiene sobre este y su experiencia artística.
La audiencia estaba compuesta por gente mayor de 30 años (en su mayoría) y desde nosotros los heterosexuales hasta una gran cantidad de publico gay, quienes no escatimaron en mostrar su aprecio a Georgi 🙂
La lista de canciones fue la siguiente: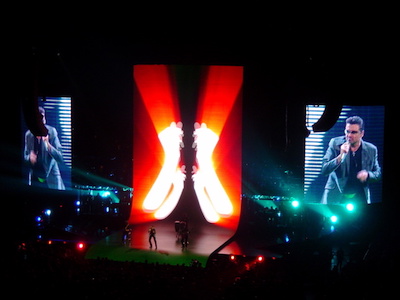 Waiting (Reprise)
Fastlove
I'm Your Man
The First Time Ever I Saw Your Face
Father Figure -> Mi preferida
Hard Day
Everything She Wants
One More Try
A Different Corner
An Easier Affair
Too Funky
Star People '97
Intermedio
Faith
Feeling Good
Roxanne
Spinning the Wheel
Kissing a Fool"
Amazing
Flawless (Go to the City)
Outside
Praying For Time. Nota: No recuerdo que el haya cantado esta canción, pues me gusta mucho para olvidarla, per segun las lista de canciones, esta fue ejecutada.
Encore
Careless Whisper
Freedom 90
El concierto fue de muy alta calidad y George no defraudo a sus seguidores, quienes tenemos años escuchándolos, definitivamente un artista a ver.