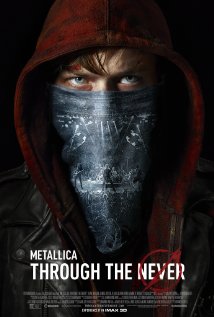 Metallica, una banda de San Francisco que comenzó como muchas otras a principios de los 80's. A través de su historia, ha tenido fuertes contratiempos, suficientes como para que la banda se disolviera, pero gracias a la perseverancia de sus miembros, esta pequeña bandita se convirtió en la banda mas grande e influyente en la historia de Heavy Metal. No habrá otro Metallica, así como tampoco habrá otros Beatles.
Para llegar hacer un film sobre un concierto de una banda, esta debe tener un curriculum que toma años hacer, y mas importante, mantenerse vigente por décadas, lo cual en si, ya es una hazaña. Pocos han hecho esto, se pueden contar con los dedos de las manos, entre ellos U2, Rolling Stones, Beatles y otros pocos.
Pues bien, esta hazaña se hace realidad con el film Metallica Through the Never. Un film capturado en las localidades Canadienses de Edmonton y Vancouver. En esencia, el film es un concierto de ellos, pero para no hacer lo mismo que otros film de conciertos, los panas le añadieron una pseudo-historia que va entre canciones del concierto. Esta bien, la historia no es del otro mundo, es una visión diferente de un film de concierto. Hasta ahí, ni mas ni menos.
El concierto? Ahhh es otra cosa! (Al fin y al cabo, es la base del film). Capturado en IMAX 3D! En proyección digital, es lo mas cercano y cómodo a estar en un concierto de ellos sin ir a verlos en vivo. El sonido es fuerte sin distorsionar, pero nunca le llega a la fuerza del sonido de un concierto en vivo, pues por la sencilla razón de que un teatro de cine no tiene la potencia de un concierto. Dicho lo anterior, el sonido de la película era lo suficientemente fuerte como para que yo cantara tranquilamente en la sala y nadie se enterara de mi voz desafinada, pues no se escuchaba, era opacado por el sonido del film.
En la sala solo estábamos fans de Metallica. Desde el punto de vista tecnico, el film es impecable, pero es realmente difícil que alguien quien nos disfrute Metallica, pueda disfrutar el film. Es un film hecho por fans de Metallica, para fans de Metallica.
El único punto en contra es su duración de 90 min. Sabemos que la banda tiene material de sobra como para tres horas de film, si ok, no se va a estar en la sala sentado durante semejante tiempo, pero 90 min es muy corto. Da la sensación que pasa volando, comenzó y de repente se termina, que? ya?!?!? Faltaron tal y cual canción! No Joda! 🙂
La banda ha evolucionado, desde aquel video casi que amateur Cilff 'Em all, pasando pro el excelente documental A year and a half in the life of Metallica, por la telenovela/reality show Some kind of Monster, la infinidad de videos de sus conciertos, el film certifica que los panas son la banda de Heavy Metal has importante de la historia de este genero.